PRICE
What's included in the entry fee?
Professionally organised race
Water safety team cover
Race medical first aid cover
Chip Timing
Well stocked aid station
A goodie bag
FREE digital photo album from the race
EVENT SCHEDULE
REGISTRATION & RACE PACK PICK UP:
Sunday 21th September before the race  7:00am – 8:30am
RACE DAY:
Sunday 21th September
7 to 8h30 am Registration & race pack pick up at Tigh Mor on the shore of Loch Achray near fishing shed– FK178HY
7 am to 8h30 am Coffee/tea and breakfast food stall – please bring cash!
7 am Transition open
8h40 am Transition close
8h45 am Athlete briefing including swim
9 am Wave 1 start
9h05 Wave 2 start
9h10 Wave 3 start
9h15 Wave 4 start
10h30 am Anticipated the first finisher
10 am Anticipated kid race
12h30 Anticipated Transition open to pick up bag and bike
COURSE
We are delighted to be hosting the Duke Triathlon in 2019 over a 400m Swim, 18.5km Offroad Bike, 2.5km run.
Race HQ:
Tigh Mor Trossachs
Address: Brig o' Turk, Loch Achray, Callander FK17 8HY
Swim Course (400m)

The swim and T1 are based at Tigh Mor on the shores of Loch Achray.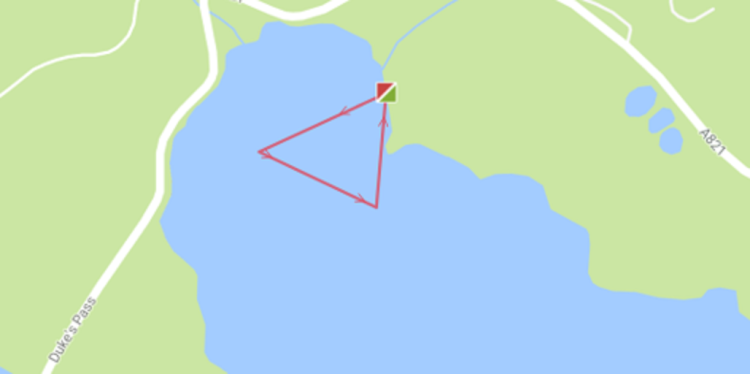 Bike Course (18.5km) off-road (no road bike – only mountain or cyclocross)
A 1 lap route on beautiful Duke's Pass following the Three lochs forest drive before coming back to A821 through Achray Farm and Brig'o Turk!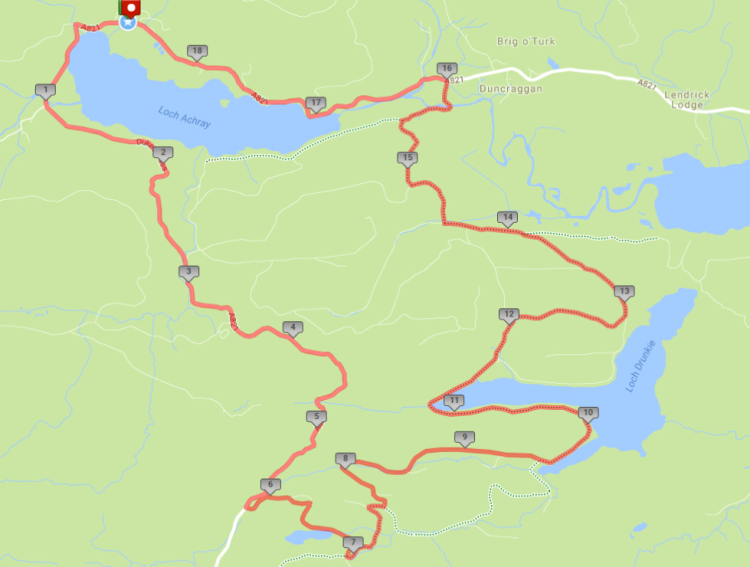 Run Course:2.5km – off-route
2 laps of a mainly off-road circuit on the private, unique and stunning Tigh Mor estate
WATER QUALITY, MEDICAL and SAFETY
Swim Safety
There will be substantial safety cover on the loch to guide and provide safety cover.
All competitors should please note: the United Kingdom inland waters are not completely safe for swimming, although risks of disease are low and risks of serious infection are minute (we have NO concerns about Loch Achray, but do take your safety seriously). A swimmer who may be susceptible to infection through immune suppression, are advised not to enter the event if he or she is not in good health at the time of swimming.
Water quality testing will be carried out in the 4 weeks lead into the event. Our final microbiological readings will be posted on duketriathlon.com the week prior to the event.
Medical Cover
Onsite during the event will be Paramedics, Doctors and First Aiders all highly experienced at supplying the highest calibre of comprehensive medical cover at a range of sporting events.
Medical Conditions
We ask that all athletes show a sensible approach towards entering the event and if you feel at all unwell either prior, during or after the event you either withdraw and or seek assistance from the Medical Team.
Volunteers
All marshals will receive an event memento, food & drink.
If you would like further information about becoming a race volunteer please contact our volunteer coordinator at [email protected]
You do not require any previous experience or knowledge of triathlon to become a race volunteer; any training required will be given on, or prior to race day.